---
Expert Timber Framing
---
Sponsored by:
All Around Construction
Email Jason770-294-1703
---
One of the most dangerous aspects of building is framing the roof. We asked for help from Jason of All Around Construction. He is an expert at framing heavy timber structures the old fashioned way. But our home is framed with modern engineered lumber. These joists and beams are made of wood chips pressed and glued together to form lumber that is stronger, more stable, and yet from fewer trees than standard lumber. You might say that Jason was over qualified for our project. I think that was good. You should have seen him crawling across the ridge beam like an iron worker.
Jason coordinated the crane for us, working with the crane operator to get our ridge beams up. We found him to be very knowledgeable and a joy to work with. He brought along his dog, Sioux (not a boy named Sue).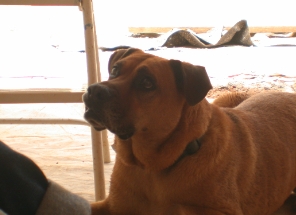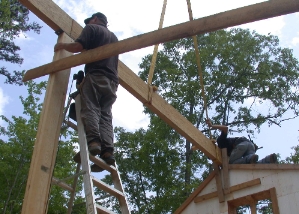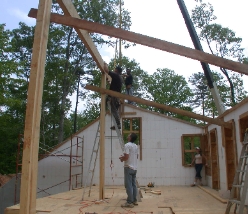 ---
Would you like to see this project under construction?
Come to the next Mountain Home Show, and you will get an invitation to our open house.
For more information, click on the link to "Detailed information about the home show."
If you are interested in building, you may also be able to make an appointment to visit.
Click on "Email Richard" to make an appointment. Or perhaps you would like to observe the construction of this home on line.
Click on "Construction Diary." You are welcome to visit often as we continually update it.
---
How to Contact Richard C. MacCrea

My Facebook Page
(Design news and ideas)
Email Me
(Opens an email window)
800.738.8781 P.O. Box 446, Murphy, North Carolina 28906

---
Other Pages on this Web Site

The Mountain Home Show, Home Page and Site Map
(How to find what you're looking for)
The Next Mountain Home Show Program
(For guests and exhibitors)
How to Get in The Mountain Home Show
(For exhibitors)
Articles
(About designing, building and remodeling a mountain home)
The Mountain Model Home
(A home that experiments with extreme energy efficiency)
The Mountain Model Cabin
(A cabin that experiments with small size and energy efficiency)
Construction Diary
(The joys and frustrations of building these two model homes)
Home Designing and Planning
(How to get plans for building or remodeling your home)

How to Contact The Mountain Home Show


Email Us
(Opens an email window)
Like our Facebook Page
(Join our Mountain Home Show Community for news and contacts)
The Mountain Home Show, P.O. Box 446, Murphy, North Carolina 28906-0446

---
Appreciation......
The Mountain Home Show owes its success to the businesses that participate in the show.
They arrange such wonderful exhibits.
It is obvious that they take great pride in their work and our show.
---
This web site contains information obtained from various sources. The Mountain Home Show is not liable for the accuracy of this information. Please contact the source of this information with your questions.