The Mountain Home Show
What can The Mountain Home Show do for your business?
Market online, with social media, in newspaper, and radio.
Teach a seminar or write an article.
Meet future customers at our show.



Our Marketing Program:


Our Web Site:
We created this web site to promote The Mountain Home Show
and our exhibitors. Our web site makes it easy for people to contact you.
And there is no extra charge for our exhibitors. In your listing you may include a
photograph, your name, address, phone, email, and web site, along with a slogan.
All we ask is that you add a link to our web site on your web site. By cross-linking
web sites we help each other build traffic. You may also write an educational article
for our web site. At the end of the article we include your contact information.
This is a great way to educate prospective clients. (The Mountain Home Show
reserves the right to edit articles).
Articles written by exhibitors
(Your name could be on an article like these).
Exhibitors in the last Mountain Home Show
(See how we advertise exhibitors from the last Mountain Home Show)
Exhibitors in the last Mountain Home Show
(See how we advertise exhibitors from the next Mountain Home Show)

Our Social Media Community:
We are working hard to connect you with our community. Facebook is free, and
it often has better results than a web site. Your Facebook business page should
"like" The Mountain Home Show Facebook Page. In turn we will like your page.
The more connections, the bigger our marketing audience. It is also a great way to
connect with other exhibitors. We can help each other get more business. If you
don't have a Facebook business page, You should create one. By connecting with us,
your new page would get a kick start. If you need help, we know some pros.
Like our Facebook Page
(Join our Mountain Home Show Community for news and contacts)

Our Newspaper Advertising Program:
The newspapers have worked with us to create the best deal in the region.
We have The Mountain Home Show Guide inserted in seven area newspapers.
You may have a business sized ad in this Guide without extra charge.
And you may arrange more advertising in this guide. The cost is about
the same as an ad in one newspaper. But your ad could be seen in seven
newspapers and handed out at the show. (Your ads must meet the deadline).
We can also arrange group newspaper ads for cost savings. By working together,
the newspapers make new advertising contacts. Our exhibitors get a great advertising
deal. And The Mountain Home Show gets more publicity.
Our Radio Advertising Program:
Have you tried radio advertising? To work you need to purchase a lot of ads.
That is what The Mountain Home Show does. And we would like to share this with you.
Because we purchase so many ads we get better rates. If you would like to try radio
advertising during the show, we can help you get the same rates. All we ask is
that you include, "See us at The Mopuntain Home Show."
You can see or listen to advertisements we made for some previous shows:
A radio ad from a previous show


Teaching a Seminar at The Mountain Home Show
Our guests come to our show looking for ideas for their home. Can you teach
them something interesting? We can advertise the title and time of your presentation
on the web site and in the newspaper. There is a small fee, and you would need to
be an exhibitor in our show. The presentation must be about services or products
for a mountain home. You might speak, show a video, or demonstrate something
interesting.
Schedule of seminars in our next show
Participating in The Mountain Model Home project
The Mountain Model Home is an experimental home designed to be extremely
energy efficient. We invite people to tour this home by appointment. You could
contribute labor and materials and our guests would see a sample of your work.
We are glad to provide them with your brochures and contact information.
We also feature what you do on our web site.
See how we promote our sponsors.

Setting Up a Display in The Mountain Home Show
What benefits come from exhibiting in our Home Show? You can join a group
of hard working local business people to promote a show we can all be part of.
Each of us sets up an interesting display of our work. People come to the show
to get ideas for their home. We can meet them, speak face to face, discuss their ideas,
maybe even make arrangements to go further. The small fees chraged exhibitors
adds up to a large advertising budget we use to propote the show. We advertise
in all the areas mentioned above. Each year we are proud of ourhigh quality little
home show. Many exhibitors say that this is by far the best and least expensive
advertising they do.
Who May Exhibit? Businesses that offer services or products for the home.
How to Exhibit? Each exhibitor gathers everything for their exhibit, sets it up
before the show, has a professional person at their display during the entire show,
and cleans their space after the show. Yes, this is a lot of work, but it is also
a great promotion for very low cost. To get the most out of our show, be ready
to welcome visitors to your booth during all hours of the show. Also be ready
to present your business to other exhibitors. You are welcome to have a prize
drawing at your booth and keep the drawing slips to use as sales leads.

The First Step?
First, email us with a description of your business to see if you qualify.
Then we will email you the agreement forms too read. When you receive them,
you can phone us to answer your questions. Then we can help you pick out
a spot in the show and fill out the forms. Then you can mail the forms and
a check to us. Below is a floor plan and a list of the available spaces.

How Much Does this Cost?
(Prices have been reduced as much as possible because of the recession.
We have done this without reducing our advertising budget.)
Each space has a $50 deposit that may be refunded after the show if all the terms are met.
There is also a $50 base fee.
And there is a square foot charge according to where the space is.
Inside Booths 1-32 cost $1.85 per square foot.
Inside Booths 33-60 cost $1.60 per square foot.
Porch Booths 101-120 cost $.85 per square foot.
Outside Booths in the grass cost $0.60 per square foot.
You are welcome to phone us at 800.738.8781 for help in selecting and pricing a space.
This pricing covers the cost of your space and all of the advertising.
You are responsible for all of your displays, backdrops, and booth furniture.
We charge $40 if you would like to teach a 30 minute seminar in a classroom.


Our Current Home Show Plan: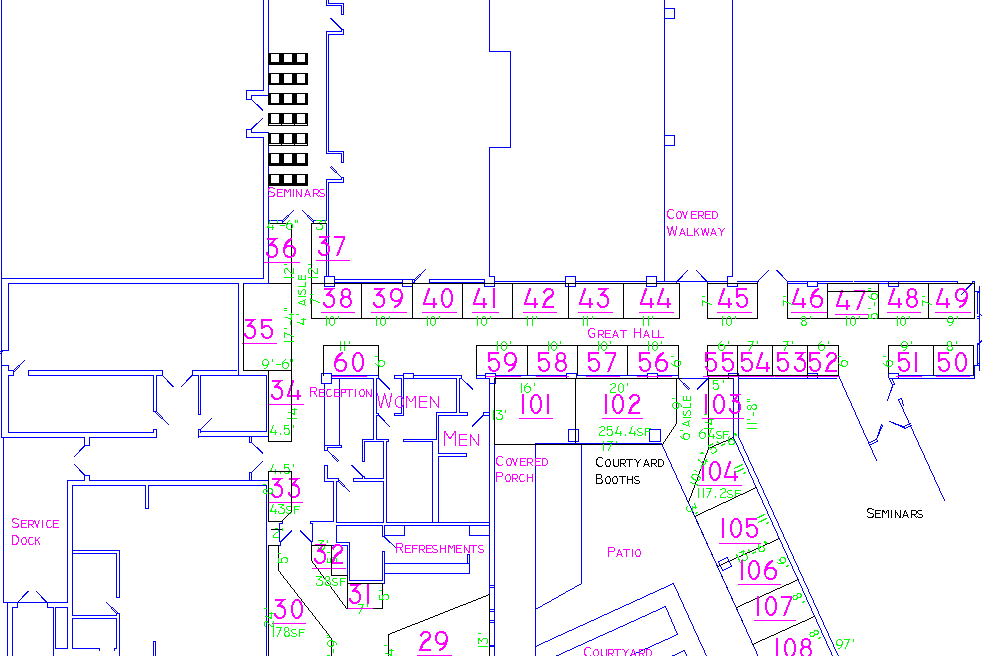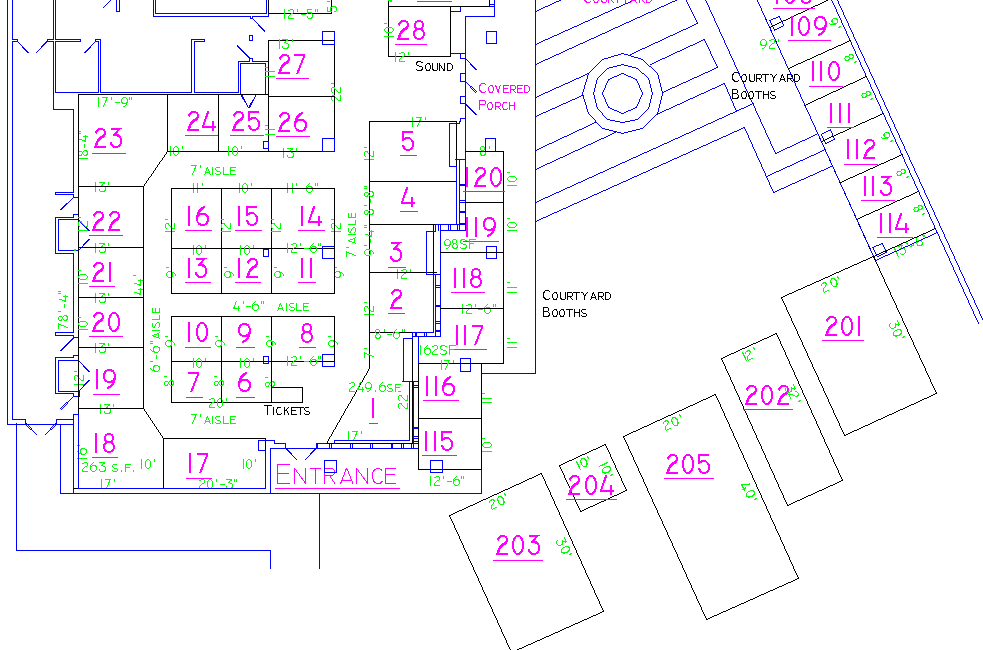 Spaces Available at This Time (updated 4-21-15):
Inside Green Alley Spaces:20
Inside Spaces: 12, 21, 25, 28, 29, 32-60
Covered Outside Spaces Under a Porch Roof: #101-120
Open Outside Spaces in the Grass: Please contact us.
Every year, previous exhibitors have until December 31 to reserve the same space they had the previous year. January is when the most spaces are available. This list changes often.
---
Other Pages on this Web Site

The Mountain Home Show, Home Page and Site Map
(How to find what you're looking for)
The Next Mountain Home Show Program
(For guests and exhibitors)
How to Get in The Mountain Home Show
(For exhibitors)
Articles
(About designing, building and remodeling a mountain home)
The Mountain Model Home
(A home that experiments with extreme energy efficiency)
The Mountain Model Cabin
(A cabin that experiments with small size and energy efficiency)
Construction Diary
(The joys and frustrations of building these two model homes)
Home Designing and Planning
(How to get plans for building or remodeling your home)

How to Contact The Mountain Home Show


Email Us
(Opens an email window)
Like our Facebook Page
(Join our Mountain Home Show Community for news and contacts)
The Mountain Home Show, P.O. Box 446, Murphy, North Carolina 28906-0446

---
Appreciation......
The Mountain Home Show owes its success to the businesses that participate in the show.
They arrange such wonderful exhibits.
It is obvious that they take great pride in their work and our show.
---
This web site contains information obtained from various sources. The Mountain Home Show is not liable for the accuracy of this information. Please contact the source of this information with your questions.