---
The Mountain Model Cabin
---
Energy Concrete Structures, Eco Block Distributor
Email Jerry Cox 828-361-2757
Georgia Mountain Concrete
Email Brian Schmitz 706-897-0180
Just Wood Timber Frames, Timber Framing Expert
Email Jason 770-294-1703
Mountain House Plans by Richard C. MacCrea
Email Richard C. MacCrea 706-745-7550
Pella Window & Door Company of Georgia
Email the Pella Store 706-745-0688
ISG Resources, Inc.


---
Everyone seems to be building the same style cabin.
We wanted to show you some different ideas in our cabin.
It is designed for those who want a very simple cabin that causes the least impact on their mountain property.
Many of these low impact features saved a lot of construction cost.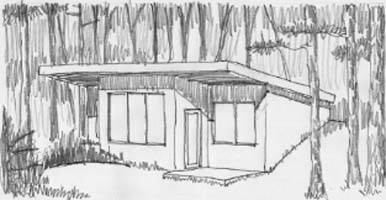 We were not afraid to eliminate the windows on the sides without a view. Every room faces the beautiful view into the woods and down the hill to a pond. The glass also faces south, allowing the warm winter sun to heat the inside. The porch was situated on the south side to provide a comfortable all season outdoor room. The house protects this area from the cold winter winds, allowing the sunshine to warm the winter air. Every room is designed for the absolute smallest size, while providing all the needs of a vacation home. This includes two sleeping rooms, one with a built in queen size bed, the other with built in bunks. A fifth and sixth person could sleep in the great room. There is a walk-in closet for everyone's storage needs. A small kitchenette is next to the bathroom plumbing. To save space many of the walls are opened up to provide built in shelf space. To keep the warmth in the house, we used super insulated ICF walls provided by Energy Concrete Structures . (A web page showing information and photos of these walls). With super energy efficient ICF walls, earth berming on the north side, high quality windows, and the glass on the south, a small window style airconditioner provides plenty of heating and cooling.
We also experimented with some artistic materials for this home. The walls are a homemade lime plaster tinted with ochre. The woodwork was made on site from locally harvested lumber, finished with a hand rubbed tung oil finish. Floors are acid stained concrete. The kitchenette has a very modern european design.
Would you like to see this home under construction?
Come to the next Mountain Home Show, and you will get an invitation to our open house.
For more informaiton, click on the link to "The Next Mountain Home Show Program."
If you are interested in building, you may also be able to make your own appointment to visit.
Click on "Email Richard" to make an appointment. Or perhaps you would like to observe the construction of this home on line.
Click on "Construction Diary." You are welcome to visit often as we continually update the diary.
---
How to Contact Richard C. MacCrea

My Facebook Page
(Design news and ideas)
Email Me
(Opens an email window)
800.738.8781 P.O. Box 446, Murphy, North Carolina 28906

---
Other Pages on this Web Site

The Mountain Home Show, Home Page and Site Map
(How to find what you're looking for)
The Next Mountain Home Show Program
(For guests and exhibitors)
How to Get in The Mountain Home Show
(For exhibitors)
Articles
(About designing, building and remodeling a mountain home)
The Mountain Model Home
(A home that experiments with extreme energy efficiency)
The Mountain Model Cabin
(A cabin that experiments with small size and energy efficiency)
Construction Diary
(The joys and frustrations of building these two model homes)
Home Designing and Planning
(How to get plans for building or remodeling your home)

How to Contact The Mountain Home Show


Email Us
(Opens an email window)
Like our Facebook Page
(Join our Mountain Home Show Community for news and contacts)
The Mountain Home Show, P.O. Box 446, Murphy, North Carolina 28906-0446

---
Appreciation......
The Mountain Home Show owes its success to the businesses that participate in the show.
They arrange such wonderful exhibits.
It is obvious that they take great pride in their work and our show.
---
This web site contains information obtained from various sources. The Mountain Home Show is not liable for the accuracy of this information. Please contact the source of this information with your questions.