---
A traditional home that is very energy efficient
---
I have worked with a local engineer with the design of several homes. When his brother decided to build a home, he recommended me. This couple has widely differing opinions on what they want in a home. He, like his brother, is an engineer, and wanted everything very practical and efficient. She wanted an elegant home like where they used to live. Of course their budget was limited.
To satisfy both of them, I set out to design a southern style home with elegance, and with passive solar features. A wrap around porch keeps the home cool in the summer. So do the high ceilings in the great room. I worked to make the floor plan as efficient as possible to keep their budget down.
The husband was in a unique position. He was not working, and he had time to oversee the construction of this home. His brother had a complete set of forms for pouring concrete walls. So we set out to design a two level home that takes the best advantage of these concrete walls, which provide the perfect mass for storing solar heat during the day. They would also be extremely durable and strong.
Notice how traditional this home looks from the driveway on the northwest side of the home.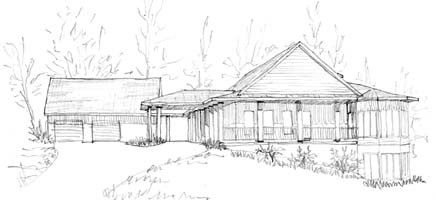 On the south side, two solar glass rooms will absorb winter sunshine and send it into the house. During the summer, the glass will be shaded by the leaves on the trees and the roof overhangs.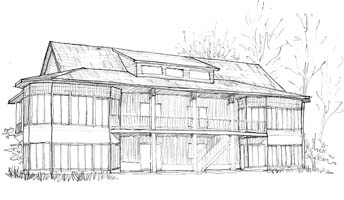 ---

New Homes I have Designed


Remodeling Projects I have Designed.


My Procedures for Designing and Planning
---
How to Contact Richard C. MacCrea

My Facebook Page
(Design news and ideas)
Email Me
(Opens an email window)
800.738.8781 P.O. Box 446, Murphy, North Carolina 28906

---
Other Pages on this Web Site

The Mountain Home Show, Home Page and Site Map
(How to find what you're looking for)
The Next Mountain Home Show Program
(For guests and exhibitors)
How to Get in The Mountain Home Show
(For exhibitors)
Articles
(About designing, building and remodeling a mountain home)
The Mountain Model Home
(A home that experiments with extreme energy efficiency)
The Mountain Model Cabin
(A cabin that experiments with small size and energy efficiency)
Construction Diary
(The joys and frustrations of building these two model homes)
Home Designing and Planning
(How to get plans for building or remodeling your home)

How to Contact The Mountain Home Show


Email Us
(Opens an email window)
Like our Facebook Page
(Join our Mountain Home Show Community for news and contacts)
The Mountain Home Show, P.O. Box 446, Murphy, North Carolina 28906-0446

---
Appreciation......
The Mountain Home Show owes its success to the businesses that participate in the show.
They arrange such wonderful exhibits.
It is obvious that they take great pride in their work and our show.
---
This web site contains information obtained from various sources. The Mountain Home Show is not liable for the accuracy of this information. Please contact the source of this information with your questions.