---
A simple home for a sloped lot with a nice view
---
This couple wanted a nice retirement home for their mountain property. They had lots of ideas for their mountain home, but did not have enough budget to afford them all, and the plans they showed me would not fit on their steep slope.
I set out to design the home to fit the slope by making the plan narrow and longer. This would have the added benefit of more rooms facing their beautiful view. I designed the garage with concrete walls to allow us to backfill earth against them. This would make the home even easier to fit on the steep slope. I also worked to reduce wasted square footage, and simplify the structure, to make their home less expensive to build.
Because their property was at a high elevation, energy efficiency was also very important.
To help reduce their budget, I moved the extra bedrooms downstairs. Sometimes my clients have difficulty with this idea because they cannot imagine having bedrooms in the "basement." But, if one side of the lower level is open, and the construction is done corectly, this can be the most comfortable area of the home.
Because the home would be exposed to car headlights coming up the street, I placed the public areas of the home on that side, hiding the master suite in a more private area.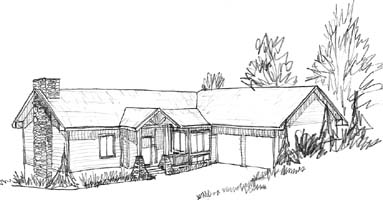 ---
How to Contact Richard C. MacCrea

My Facebook Page
(Design news and ideas)
Email Me
(Opens an email window)
800.738.8781 P.O. Box 446, Murphy, North Carolina 28906

---
Other Pages on this Web Site

The Mountain Home Show, Home Page and Site Map
(How to find what you're looking for)
The Next Mountain Home Show Program
(For guests and exhibitors)
How to Get in The Mountain Home Show
(For exhibitors)
Articles
(About designing, building and remodeling a mountain home)
The Mountain Model Home
(A home that experiments with extreme energy efficiency)
The Mountain Model Cabin
(A cabin that experiments with small size and energy efficiency)
Construction Diary
(The joys and frustrations of building these two model homes)
Home Designing and Planning
(How to get plans for building or remodeling your home)

How to Contact The Mountain Home Show


Email Us
(Opens an email window)
Like our Facebook Page
(Join our Mountain Home Show Community for news and contacts)
The Mountain Home Show, P.O. Box 446, Murphy, North Carolina 28906-0446

---
Appreciation......
The Mountain Home Show owes its success to the businesses that participate in the show.
They arrange such wonderful exhibits.
It is obvious that they take great pride in their work and our show.
---
This web site contains information obtained from various sources. The Mountain Home Show is not liable for the accuracy of this information. Please contact the source of this information with your questions.