---
A summer home with a phenominal view
---
These clients discovered me on this web site. Someone from Florida had tried to draft a set of plans for them, but the planner did not understand how to design a home for a steep property. A builder told my clients they needed a new plan. They had a steep mountain property with a fantastic view of the mountains, and they wanted a beautiful summer home that would provide a secluded place for them to enjoy nature. They sent me a drawing of a Florida style home they liked. High ceilings and glass facing the view were very important to them. They especially wanted a tower office on a third level to enjoy the view.
But their budget was not large enough to afford everything they wanted. I recommended simplifying the rooflines of the plan they showed me. It was also important to make the home longer and narrower to fit on the steep slope. I designed a new plan that fit nicely on the steep slope. This plan included a third level office, but I tucked it into the same roofline to save a lot of cost. To keep the budget lower, I also recommended putting the second bedroom downstairs.
The client decided to be his own contractor. When he ran into difficulties, I was able to go out to the project and solve the problems.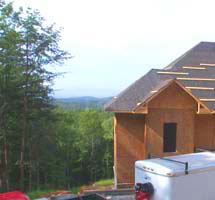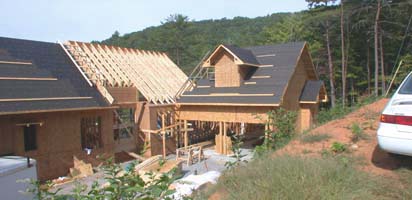 These photos show the roof framing over the cathedral ceiling. I like using I joists because they are straight, lighter, and provide a full 12" for insulation.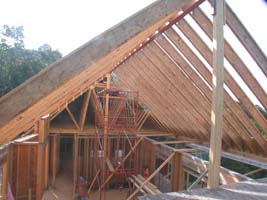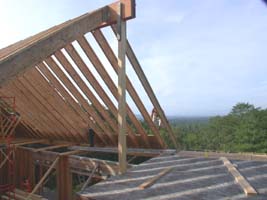 ---
How to Contact Richard C. MacCrea

My Facebook Page
(Design news and ideas)
Email Me
(Opens an email window)
800.738.8781 P.O. Box 446, Murphy, North Carolina 28906

---
Other Pages on this Web Site

The Mountain Home Show, Home Page and Site Map
(How to find what you're looking for)
The Next Mountain Home Show Program
(For guests and exhibitors)
How to Get in The Mountain Home Show
(For exhibitors)
Articles
(About designing, building and remodeling a mountain home)
The Mountain Model Home
(A home that experiments with extreme energy efficiency)
The Mountain Model Cabin
(A cabin that experiments with small size and energy efficiency)
Construction Diary
(The joys and frustrations of building these two model homes)
Home Designing and Planning
(How to get plans for building or remodeling your home)

How to Contact The Mountain Home Show


Email Us
(Opens an email window)
Like our Facebook Page
(Join our Mountain Home Show Community for news and contacts)
The Mountain Home Show, P.O. Box 446, Murphy, North Carolina 28906-0446

---
Appreciation......
The Mountain Home Show owes its success to the businesses that participate in the show.
They arrange such wonderful exhibits.
It is obvious that they take great pride in their work and our show.
---
This web site contains information obtained from various sources. The Mountain Home Show is not liable for the accuracy of this information. Please contact the source of this information with your questions.