---
A garage apartment cabin
---
At my booth in the mountain home show, I display my ideas for building on steep properties. To help people understand these ideas, I created a planbook of about twenty homes. I produced artwork to show people how nice these homes would fit on a steep lot. But of all those plans I created, this is the only one that sold!
Because everyone wants a custom design, I no longer sell premade house plans, There is no way to design a nice home that would fit any mountain property. But enough people sawy my ideas for steep properties that I have been able to use these principles to design many homes. Many people are asking me to incorporate these ideas into their custom home. But I wanted to show you this one little cabin that everyone loved so much.
This is a one bedroom apartment over a two car garage. Covered stairs lead up to the porch. The covered porch provides a nice view, and protects the garage doors. Both the bedroom and the living room have a nice view through the glass doors. The kitchen and bathroom are in the back. So is another stairway that goes down to the garage, convenient access during bad weather.
This is the perfect little cabin to live in while you are building your dream home. When you move out, it becomes the great little guest cabin, or the private office. If you have me design your dream home, I can make sure it matches this cabin's style.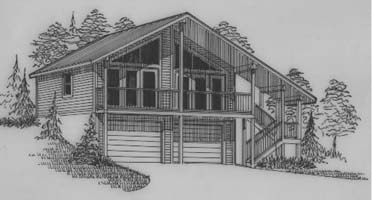 ---
How to Contact Richard C. MacCrea

My Facebook Page
(Design news and ideas)
Email Me
(Opens an email window)
800.738.8781 P.O. Box 446, Murphy, North Carolina 28906

---
Other Pages on this Web Site

The Mountain Home Show, Home Page and Site Map
(How to find what you're looking for)
The Next Mountain Home Show Program
(For guests and exhibitors)
How to Get in The Mountain Home Show
(For exhibitors)
Articles
(About designing, building and remodeling a mountain home)
The Mountain Model Home
(A home that experiments with extreme energy efficiency)
The Mountain Model Cabin
(A cabin that experiments with small size and energy efficiency)
Construction Diary
(The joys and frustrations of building these two model homes)
Home Designing and Planning
(How to get plans for building or remodeling your home)

How to Contact The Mountain Home Show


Email Us
(Opens an email window)
Like our Facebook Page
(Join our Mountain Home Show Community for news and contacts)
The Mountain Home Show, P.O. Box 446, Murphy, North Carolina 28906-0446

---
Appreciation......
The Mountain Home Show owes its success to the businesses that participate in the show.
They arrange such wonderful exhibits.
It is obvious that they take great pride in their work and our show.
---
This web site contains information obtained from various sources. The Mountain Home Show is not liable for the accuracy of this information. Please contact the source of this information with your questions.