---
A super energy efficient home for a mountain subdivision
---
This home was designed to be very energy efficient without looking out of place in a typical mountain subdivision.



At first this couple was not really that interested in being energy efficient. The look of the home was much more important. They had visited many well known homes designed by famous architects, and wanted their home to have "good lines." So my first design was a very spectacular home with many of the ideas from a "Usonian" type home. But, I overshot my clients with the design. They loved the concept, but could not imagine living in that home. So, I toned it way down, but I kept the home very energy efficient.
Because I had measured the slope and the direction of the view on their property, I was able to take the best advantage of the solar angles and the view. I designed this home to maximize the amount of glass facing the view, but minimizing the other glass.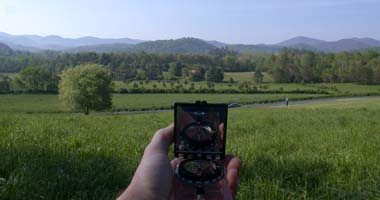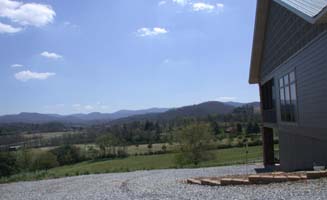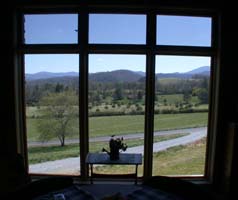 That is because even energy efficient windows are much less efficient than an insulated wall. So I eliminated high glass that faced the sky, and much of the glass that faced the neighbors. Then I designed the roof to shade almost all of the glass during hot summer, but let in lots of sunshine when it is cold. Even I was shocked by how much this helped the energy costs.
This home has a total of 3300 square feet of living area, on two levels. Everything is electric except the fireplace. How much do you think it would cost to heat this house in the winter? In our area the electric bill might be as much as $200- $300 higher in the coldest winter month. Not this house! Their bill went up only $40 the coldest month! Yet this home does not look like a super energy efficient home. It has normal lines, typical roofing and siding. There are no solar panels. How is this possible?
The most important aspect of energy efficient design is to design the home to fit the property. I reduced the wall exposure facing the north. I moved all the glass I could to the south side, and designed the roof overhang to protect the glass from the hot summer sun. I reduced the glass on the east and west sides. These design features contributed to about 80% of the energy savings. And how much extra did this cost? $0. I did not design anything that raised the cost of the home.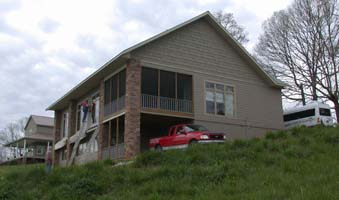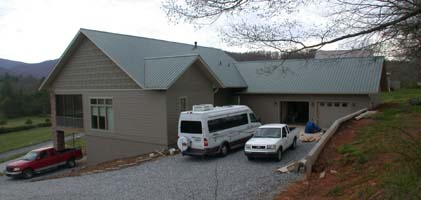 The photos above show little glass on the west side and lots of south facing glass shaded by the overhangs, very little glass on the east side, and less glass and walls exposed on the north side.
While I was designing this home the clients began to learn about energy efficiency, and how important it is. They did extensive research and brought me many ideas to consider. They took advantage of a program offered by our power company to help pay for a super energy efficient water heater. They also spent about $3000 extra for a heating system with a 19.5 SEER rating. They also used many fluorescent lights in the house. These changes cost extra money, and constributed to the other 20% in energy savings.
Even though I had hoped they would like my earlier design, I am still very proud of this home. It is designed to fit the needs of my clients. I was able to plan a home that fit their lifestyle. It is designed for their hobbies, how they entertain, and how they live.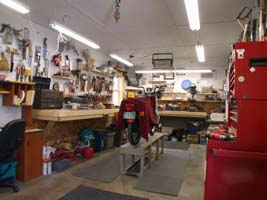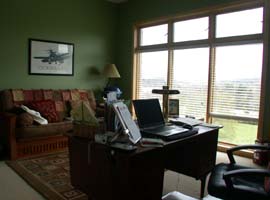 If they should become handicapped, they would find it much easier to live in this home. They will enjoy the rest of their life in this home. But it is also very energy efficient. With the money they save every month on their electric bill, they can recover my fee in a short time.
The interior of this home is very nice and comfortable. Could you tell this is a super efficient home?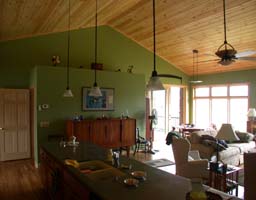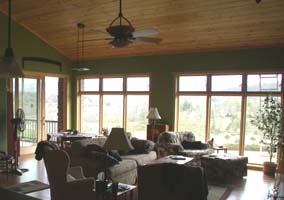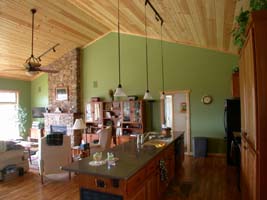 So how do the clients feel about this home? They have become very excited about energy efficient design, and love their mountain home.
To promote The Mountain Home Show and energy efficient home design, I was interviewed in this home by the local community television station.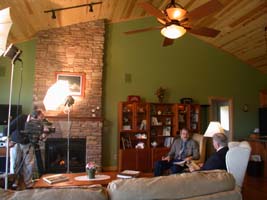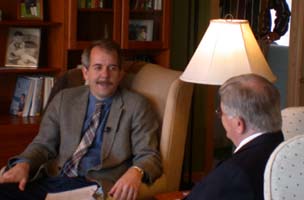 After living in their home a few years, it was struck by lightning and burned to the ground. They lost their pets and many prized possessions. But they had the opportunity to change anything they wanted in the plan before rebuilding. All they changed was a closet and a roof gable. Now after living several years in the rebuilt home they report that their energy bills are extremely low.
---
How to Contact Richard C. MacCrea

My Facebook Page
(Design news and ideas)
Email Me
(Opens an email window)
800.738.8781 P.O. Box 446, Murphy, North Carolina 28906

---
Other Pages on this Web Site

The Mountain Home Show, Home Page and Site Map
(How to find what you're looking for)
The Next Mountain Home Show Program
(For guests and exhibitors)
How to Get in The Mountain Home Show
(For exhibitors)
Articles
(About designing, building and remodeling a mountain home)
The Mountain Model Home
(A home that experiments with extreme energy efficiency)
The Mountain Model Cabin
(A cabin that experiments with small size and energy efficiency)
Construction Diary
(The joys and frustrations of building these two model homes)
Home Designing and Planning
(How to get plans for building or remodeling your home)

How to Contact The Mountain Home Show


Email Us
(Opens an email window)
Like our Facebook Page
(Join our Mountain Home Show Community for news and contacts)
The Mountain Home Show, P.O. Box 446, Murphy, North Carolina 28906-0446

---
Appreciation......
The Mountain Home Show owes its success to the businesses that participate in the show.
They arrange such wonderful exhibits.
It is obvious that they take great pride in their work and our show.
---
This web site contains information obtained from various sources. The Mountain Home Show is not liable for the accuracy of this information. Please contact the source of this information with your questions.