---
A home with a fantastic view on a very steep lot
---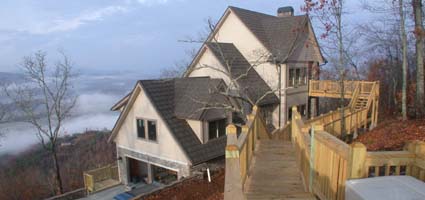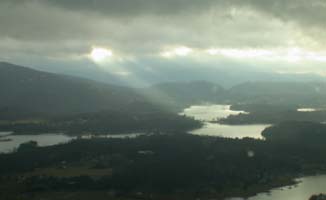 Just look at this view!
This couple's love of airplanes led them to this very high property. They wanted the view to be the focal point of this home. How could I design anything to compete with that mountain valley?
Having been a commercial contractor in Florida, this client brought me very detailed information including a topographical survey and a floor plan. I carefully listened to what they wanted in their home, and after inspecting the site began designing their home. Because of the very steep site, I was not able to take advantage of passive solar heating. But I carefully designed the roof overhangs to shade almost all of the glass facing the hot summer sun on all three levels. I also specified an insulated, unvented crawlspace for better efficiency. And we chose icynene spray foam to protect the house from the strong winter winds on this ridge. We also insulated the outside of the basement walls, to keep the foundation walls and crawlspace warm and reduce energy costs. We worked out a design that used termite treated foam panels with "z" channels to screw stucco lath to. These walls were finished with stucco and light weight man made stone. The clients also wanted a lot of "smart house" technology, including a complete video, audio, security, and lighting control system.
I was concerned when the clients decided to be their own contractor, especially with such a complicated home on this steep property. But I was able to be of assistance by providing construction inspection services. I was also able to assist in getting the building department to approve the cutting edge features of this home. The wife directed the entire project, and it was very successfully completed in seven months. She went on to get a contractor's license and a home inspection license, and start the business: Your Inspection Expert. This home is certainly a great recommendation for her ablities.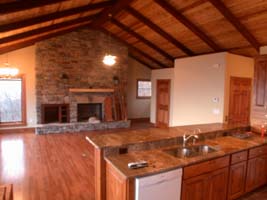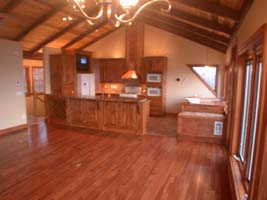 The contrasting wood creates interest on this great room ceiling. The kitchen has a booth with a view.



A link to a web site about this home
Update, 2012: The clients sold their home, and the new buyers hired me to design an addition that improves the house and its energy efficiency. This addition was completed.

---
How to Contact Richard C. MacCrea

My Facebook Page
(Design news and ideas)
Email Me
(Opens an email window)
800.738.8781 P.O. Box 446, Murphy, North Carolina 28906

---
Other Pages on this Web Site

The Mountain Home Show, Home Page and Site Map
(How to find what you're looking for)
The Next Mountain Home Show Program
(For guests and exhibitors)
How to Get in The Mountain Home Show
(For exhibitors)
Articles
(About designing, building and remodeling a mountain home)
The Mountain Model Home
(A home that experiments with extreme energy efficiency)
The Mountain Model Cabin
(A cabin that experiments with small size and energy efficiency)
Construction Diary
(The joys and frustrations of building these two model homes)
Home Designing and Planning
(How to get plans for building or remodeling your home)

How to Contact The Mountain Home Show


Email Us
(Opens an email window)
Like our Facebook Page
(Join our Mountain Home Show Community for news and contacts)
The Mountain Home Show, P.O. Box 446, Murphy, North Carolina 28906-0446

---
Appreciation......
The Mountain Home Show owes its success to the businesses that participate in the show.
They arrange such wonderful exhibits.
It is obvious that they take great pride in their work and our show.
---
This web site contains information obtained from various sources. The Mountain Home Show is not liable for the accuracy of this information. Please contact the source of this information with your questions.