---
Making an old boarding house into a wonderful bed and breakfast
---
I met these clients at an open house of another project I designed. They told me about this huge old boarding house they owned in a forgotten village in Florida. They had a dream of an eccentric bed and breakfast in a truly historic, rural community.
When I met them at the home, I was amazed. I lived in Florida for two decades but had never seen anything like this. The neighborhood felt like the set of "To Kill a Mockingbird," only the houses were bigger and more unusual.
The clients explained the history of this community. It was settled over a hundred years ago on the banks of a large lake by wealthy northerners who wanted a true get-away. At a time when home styles were quite restrictive, the secluded nature of this community gave the people freedom to build some very progressively styled homes for that time. After the homes were built, developemnt wnet in a different direction and time forgot this place. Few oft he homes were "modernized," leaving a time capsule of eccentric homes with ancient landscaping. Most of the streets were never paved. (Many people believe that old neighborhoods were ridgid with perfectly manicured lawns, but they were not originally so prim and proper, and that loose atmosphere is still preserved in this village).
We discussed ideas for their huge boarding house. The home was not a good candidate for preservation because it was such a hodge podge of additions. I suggested we preserve the free spirit of this home by breaking some of the rules of style. We discussed how they could make this a successful home and business. The primary advantage was the home being in such a unique historical community. This would appeal to those interested in Florida's rural history. Within walking distance was a large lake, with excellant bass fishing. One of the owners happened to be an expert fishing guide and an excellent caterer. Can you imagine the opportunity to catch your own fish and have it prepared into a gourmet meal? The other owner knew many others in the bed and breakfast business in St. Augustine, a couple hours away. I suggested building a network with them to offer side trips for their guests. Many people come to St. Augustine to experience Florida history. The rural history of this community and home would be an interesting contrast. I also recommended that we find out all we can about the history of this house and use this as a theme for the design. One of the rooms was a dentist office, and I suggested decorating the room with antique dentistry. We also agreed that the property needed to be landscaped in a very special way to reflect the privacy, nature, and history of this village, while providing comfortable outdoor spaces for their guests.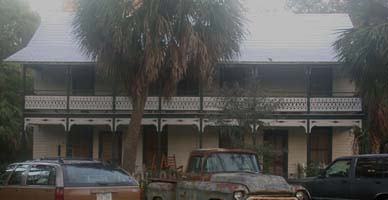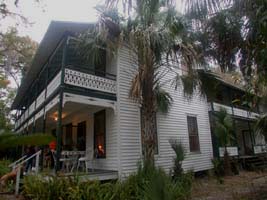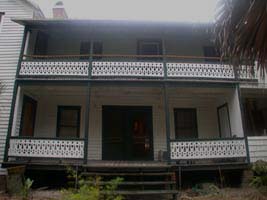 It took several days, but I measured this entire home, and produced a plan of the house as is. To add more detail to the plans, I took extensive photos of each room.
---
How to Contact Richard C. MacCrea

My Facebook Page
(Design news and ideas)
Email Me
(Opens an email window)
800.738.8781 P.O. Box 446, Murphy, North Carolina 28906

---
Other Pages on this Web Site

The Mountain Home Show, Home Page and Site Map
(How to find what you're looking for)
The Next Mountain Home Show Program
(For guests and exhibitors)
How to Get in The Mountain Home Show
(For exhibitors)
Articles
(About designing, building and remodeling a mountain home)
The Mountain Model Home
(A home that experiments with extreme energy efficiency)
The Mountain Model Cabin
(A cabin that experiments with small size and energy efficiency)
Construction Diary
(The joys and frustrations of building these two model homes)
Home Designing and Planning
(How to get plans for building or remodeling your home)

How to Contact The Mountain Home Show


Email Us
(Opens an email window)
Like our Facebook Page
(Join our Mountain Home Show Community for news and contacts)
The Mountain Home Show, P.O. Box 446, Murphy, North Carolina 28906-0446

---
Appreciation......
The Mountain Home Show owes its success to the businesses that participate in the show.
They arrange such wonderful exhibits.
It is obvious that they take great pride in their work and our show.
---
This web site contains information obtained from various sources. The Mountain Home Show is not liable for the accuracy of this information. Please contact the source of this information with your questions.